Jaipur Sightseeing

Taxi Services
Book 
Jaipur sightseeing taxi
 packages from us and get the best deals on your booking with Souravh Tours and Travels. Available half day, one day, two days taxi for sightseeing in Jaipur.Jaipur Sightseeing Tour Taxi by Souravh Tours and Travels Plan a Jaipur Sightseeing taxi tour with Souravh Tours and Travels and explore the amazing sites in Pink City. Souravh Tours and Travels Taxi at 
Jaipur Sightseeing taxi
 offers taxi cars and drivers safe and comfortable. A rental car from Souravh Tours and Travels will take you any place your own vehicle can't. In the event that you'd wish to travel any place the streets square measure less positive.
Souravh Tours and Travels
is a standout amongst other Jaipur touring taxi administrations supplier in Jaipur for touring. They give a wide range of taxi and taxi benefits in Jaipur like Jaipur darshan taxi, Jaipur touring taxi, and furthermore give touring administrations from Jaipur to Delhi, Ajmer, Agra, Bikaner, Jodhpur, and Jaisalmer and all over Rajasthan urban communities. Souravh Tours and Travels administrations manage vacationer controls and give visitor taxi in Jaipur to all Rajasthan visits. Souravh Tours and Travels administration accessible for Jaipur darshan and touring bundle in Jaipur. Jaipur is known as pinky is the fascination point for visitors and journey darlings. We have wide range of
taxi in Jaipur
Rajasthan, like private taxi, minibus, and tempo service also.
The must-see places to visit in Jaipur The pink city are.
Hawa Mahal:- It is also called "the "Palace of the Winds." The fantastic structure has five stories and 953 windows. It was made using red and pink Sandstone. Its design is reminiscent of Lord Krishna, who is a Hindu god. The primary reason behind the construction of Hawa Mahel by Rajputs is to make them familiar with the royal ladies, who are not required to attend public events. The everyday events that take place in the streets. It is also a way to be able to observe the events that are taking place.
Jantar Mantar:- is home to the world's largest sundial, Samrat Yantra in Jantar Mantar. It is an observatory for astronomy constructed of marble and stone. It is a magnet for architects and astronomers all over the world. It houses 14 instruments, which comprise devices that observe the orbits of the Sun, monitor time, etc. It was declared a national monument in 2000 and is also a UNESCO World Heritage Site.
City Palace:- The palace and all aspects were built and designed under the Indian technology of Vastu by blending Mughal with European architectural elements. The complex is comprised of several gardens and structures. The most striking feature unique to City Palace is its elaborately decorated gates.
Jal Mahal:- It is also referred to as a Water Palace. It is a beautiful structure in the middle of Lake Sagar. It was constructed to serve as a palace for the King. It is home to a terrace garden with lush greenery but has no chambers. The waters submerge the palace's four floors.
Amber Fort:- It is marble, pale yellow, and pink stone structure. You can observe the impact of the Muslim and Hindu architectural styles on this fort. It is also home to the Magic Flower; a marble carving is a must to see the artwork in this fort.
Jaigarh Fort:- Jaigarh Fort is the strongest fort in Jaipur. The magnificent fort is built with red sandstone. It also has walls that are thick and a kilometer in length. It is possible to see the world's giant cannon, Jaivana Cannon. There is also an armory, museum, and an impressive garden. It has not been a battleground for other nations.
Central Museum:- It is the most frequently visited of all Jaipur sightseeing spots by tourists across the globe. It showcases all the objects that reflect Jaipur's rich cultural heritage, values, and outstanding artistic talents. The most notable feature is the building that is the structure itself.
Nahargarh Fort:- It is situated in the Aravali mountain range. Madhavendra Bhavan is the famous attraction of Nahargarh Fort, while the other is the park. A step well one of the must-see spots within the fort.
Elefantastic:- Visiting Elefantastic is one of your most memorable memories in Jaipur. While it's costly, the experience is worth it. It is a spot where you can spend the elephants for the whole day, engaging with them, drawing them, and, most importantly, learning from their elephants.
Other Jaipur Sightseeing locations include Birla Mandir Govind Devji Temple, Raj Mandir Cinema, Zoo, etc.
Jaipur Sightseeing Tour
Tour DetailsPlaces the tour will Visit:
Amber fort, City Palace, Jantar Mantar, Water Palace, Hawa Mahal, Albert hall and Birla Temple.
7:30 AM – 11:30 AM:
You will be picked up from your respected city and drive to Amber en route shooting stoppage at Palace of Winds (Hawa Mahal). Amber Fort – The Best ever monument of Rajasthan by climbing on back of the Elephant on direct payment basis. At Amber fort visit Sheesh Mahal and hall of Audience.
12 Noon – 02:00 PM:
Visit Various Museums inside the Maharaja's City Palace & the Observatory (Jantar Mantar)- the House of instruments – Jantar Mantar is perfect fusion of the astronomical intelligence with the typical heritage of Rajasthan.
02:30 PM – 06.30 Pm:
After Having Lunch at your favorite cuisine Restaurant, Jaipur City Tour welcomes you to visit The Local Market of Pink City Jaipur, Also visit Albert Hall and Birla Mandir. At the end of this tour you will be dropped at your respected hotel. 
Tour Includes:
An Air- Conditioned Deluxe Car with English speaking highly experienced Chauffer.
A Govt. Authorized tourist Guide services.
Tour Excludes:
Entry fee & Camera of Places visit.
Elephant Ride Charges. (if you wish to do)
Insurance.
Personal expenses like Lunch, Mineral water etc.
Parking Charges.
Swift Dzire

-1700/-

8 HR / 80 KM
Extra HR Rate : Rs. 150
Seating Cap.4+1
Toyota Etios

- 1900/-

8 HR / 80 KM
Extra HR Rate : Rs. 175
Seating Cap.4+1
Toyota Innova

- 2700/-

8 HR / 80 KM
Extra HR Rate : Rs. 200
Seating Cap.6+1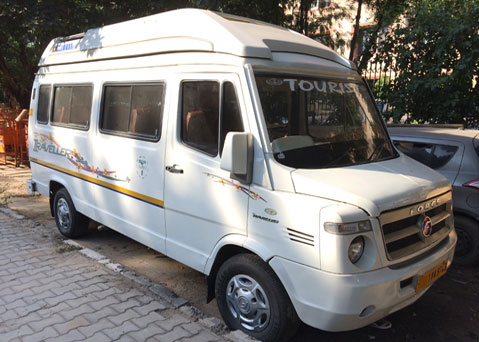 Tempo Traveller

- 3700/-

8 HR / 80 KM
Extra HR Rate : Rs. 300
Seating Cap.12+1
AC Coach

- 6700/-

8 HR / 80 KM
Extra HR Rate : Rs. 500
Seating Cap.27+1
AC Coach

- 8700/-

8 HR / 80 KM
Extra HR Rate : Rs. 800
Seating Cap.45+1
Book Now : Call me at +91 9983558474
& have a look at our Hot selling cab packages